Editor's note: With the sudden arrival of the omicron variant in the capital and sporadic closures threatening sudden closures and event cancellations, it's best to call ahead before visiting these venues to see if they are always open.
---
Warmer weather has finally arrived, bringing much-needed relief after what felt like an unusually long and cold winter (how many times has it snowed!?). So, we have compiled a list of some of the best terraces, mainly located in Chaoyang and Dongcheng, where you can enjoy the much-needed fresh air and sunshine.
Dongcheng
Cafe Alba
Just east of Gulou Tower, the rooftop of Café Alba offers great panoramic views of the hutongs. The large rooftop is surrounded by trees and has plenty of seating. Their simple menu is very reasonably priced and the homemade pasta is a must try. With busy Gulou just below, it's a great spot for a few people watching while sipping on one of the many cocktails on offer.
Orchid Toast
Botique hotel The Orchid's Toast restaurant has a magnificent rooftop terrace in the heart of Beijing's old town. Once the weather warms up, the terrace is open and guests are treated to beautiful views of what lies above the hutongs.
Toast offers a range of different dishes, with a Middle Eastern-inspired brunch in the morning, afternoon tea after 2:30 p.m., and dinner in the evening. It's a very popular brunch destination, so be prepared to wait as reservations are only available for eight or more people.
El Nido @ The Other Place
Tucked away just off Beiluoguxiang is El Nido @ The Other Place, a cozy little brasserie that has a cute outdoor courtyard with a few rooftop tables. Although not a terrace per se, the extensive greenery and skylight give a very relaxed vibe, making it a great place to relax while sipping on one of their many beers.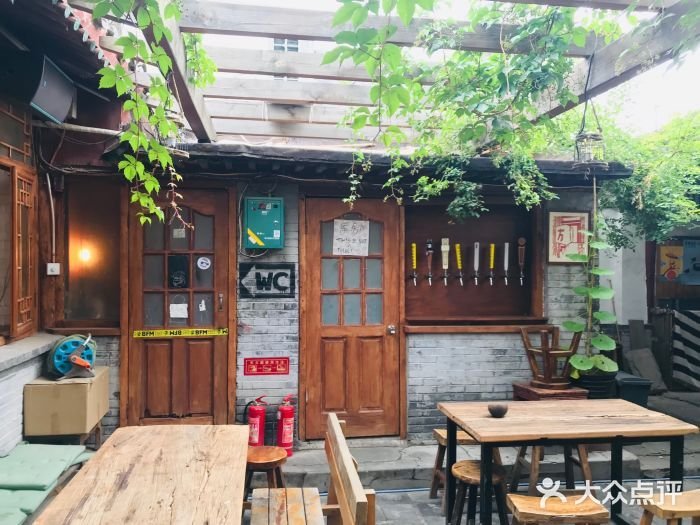 Or if beer isn't your thing, you can just order a cocktail at Fang Bar, which is located in the same courtyard. El Nido also offers Mediterranean-style cuisine that includes tasty (and fairly inexpensive) cheese and charcuterie boards that are perfect for sharing.
Chao Yang District
common
Commune's new Taikooli location offers a chic terrace overlooking the dazzling lights of Sanlitun. This popular bottle bar chain has a huge selection of beers that can be chosen from one of the many fridges, or if you're looking for something a little stronger, liquor by the bottle is also available. They also serve reasonably priced western food, cocktails and cocktails.
WAA Riverside Gastro Pub
As you might guess from the name, this gastropub is located directly on the Liangma River. WAA has a jetty out back with plenty of outdoor seating and spectacular views of the river, especially when it's all lit up at night. Run by a Shandong-based brewery, they have around 16 beers on tap and also serve Chinese fusion cuisine that offers some really tasty dishes to share.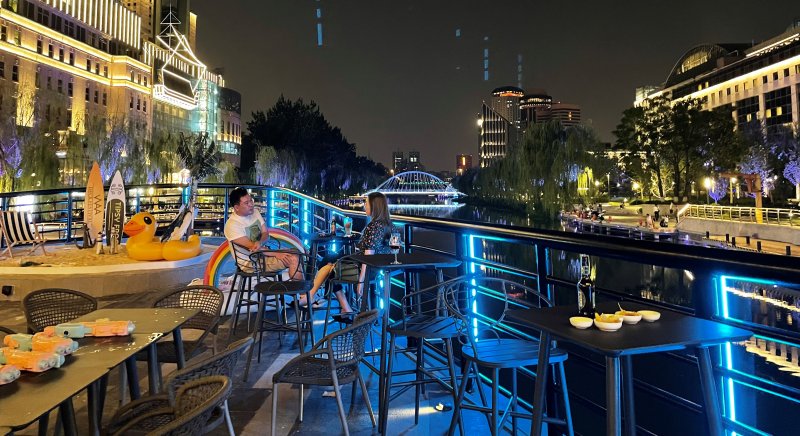 arrow plant
Located right next to the Liangma River, Arrow Factory has a small terrace, a relatively large rooftop, and a beer garden on the ground floor. This British-style brasserie offers a range of Western dishes, many draft beers and a variety of other drinks.
This is a great brunch spot with one of the best English breakfasts in town. On Sundays, they also offer a Sunday Roast for 128 RMB (prior reservation required).
The neighborhood
Sitting on the terrace or rooftop of El Barrio at Nali Patio feels more like being somewhere in southern Europe than in the heart of Beijing. As you would expect from any Mexican restaurant, they have the usual south of the border classics as well as great margaritas. In the summer, the terrace can get very crowded, so it's best to book ahead to ensure you have a seat outside.
Well
The branch of French cafe TienTiens Sanlitun has one of the largest rooftops in Beijing. With multiple levels, there are plenty of seats to choose from. The many plants and pretty fairy lights make it a perfect place to go any time of the day. Along with coffee, tea, and sweets, they also have cocktails and other alcoholic beverages on the menu.
Migas Mercado
In the heart of Guomao, you can't get better views than those from Migas' terrace overlooking some of Beijing's most impressive buildings. Their large open space has no shortage of seating and is the epitome of class and their annual opening night on the terrace is not to be missed. With top quality Spanish cuisine including a wide variety of tapas on the menu and plenty of delicious cocktails, it's clearly one of the best places to enjoy Beijing's warmer weather.
Bonus endorsement
If you're looking for something a little cheaper than Migas, Blue Frog's Guomao branch on the lower floor (in main image) also has a great terrace and daily happy hour, buy it one, get one free!
READ: Fat Girl brings Chongqing heat to Taikooli West
Images: Pekingese, Dianping